We are RIDR Apparel
No matter the color, religion or gender. But certainly no matter the size or type of bike. The thing that connects us all is the feeling of freedom each RIDR goes through when those tires touch the ground.That is what makes us a RIDR.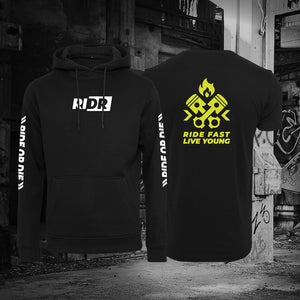 Custom Hoodies & T-shirts
Check out our new custom hoodies and t-shirts!
Available in different colors and in 2 new stunning designs:
Bike = Life and Ride Fast Live Young
Check them out here.
More than just a brand
We are just a couple of guys sharing the same passion for riding and wanted to create a clothing brand to unite the RIDR community.
With our premium quality clothing we try to connect riders with each other. Not just by wearing our brand, but by sharing the RIDR lifestyle!
Interested in what we have in store? Check it out here.